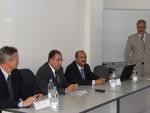 Almotamar.net
- The training program on techniques of facilitation, managing programs and workshops and training symposiums and administration of different meetings and working teams has been opened in Sana'a on Sunday. The programme has been implemented in coordination between the Central Organisation for Control & Auditing, INTOSAI Development Initiative (IDI) and the General Secretariat of the Arab Group for Supr3me Audit Institutions.
The two-day training programmed to enhance capacities of an elite of participants from members of the Arab Group in the area of facilitation to enable them to comprehend the role of facilitation and acquiring essential skills of successful facilitation and the fields that enable them to activate and organise workshops and meetings, such as managing discussion , facilitating exchange of opinions and suggestions , bringing closer of viewpoints and skills of presentation so that to be possible to depend on the participants in future in activation of programs of future cooperation between the IDI and the Arab Group in the area of building capacities , the success of which depends on providing facilitators at the audit institutions .
The programme includes 26 participants from 16 Arab audit institutions, including Yemen.