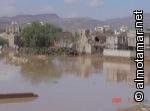 By:almotamar.net
- GOVERNORATES: Heavy rains caused Friday damages in people's possessions, claimed the live of a lady and injured others in various areas of Yemen.
According to field reports, a Yemeni lady died, and two men were injured as their home collapsed in Rada'a city, al-Baida governorate.
In Taiz governorate, local sources told almotamr.net that heavy rains have caused damages in a number of roads, old houses and some properties. A car was swept away, and part of a house collapsed, they added.
Meanwhile, local sources in al-Dhalei' governorate told almotamr.net that floods have swept away some agricultural lands in She'b and Dhei Harran districts.