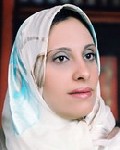 Ebtihag Alkamal
- Some politicians believe that democracy is based –only-on constitutional foundation and legal texts, so they claim that the absence of ideal experiences in democracy, freedoms, human rights means the failure of the political regime of the country.
Those people ignore that democratic and evolution change and the respect of human rights are not a production of legislative process only but production of political, social and cultural development ,and that process may takes long time.
As the change of the legislative infrastructure and its continuous improvement is a necessity for democratic development ,hence the influence in culture and minds of political leaders , the expansion of the political participation ground and upgrading the awareness of rights and democratic conduct occupy the same importance which the democratic legislations have.
The continuation in changing different institutions in the society to the same direction where the democratic process is moving at to create a generation believe in democracy and respect human rights, especially when we talk about Yemen –which spent decades under totalitarian and dictator regimes.
Although Yemeni democratic experience is short-about 15 years old- but it exposed that Yemeni socity is attempting to make this transformation achievable and becomes a final choice without return.
During the past fifteen years of the age of democracy in Yemen ,many political activities ,social ,economical , and cultural interaction took place which confirmed the democratic choice as a best choice for rapid development.
The country has witnessed three parliamentary elections , presidential election , local governance elections, two referendums , free journalism emerged and plurality as well.
President Ali Abdullah Saleh called political parties to expand women participation in policy and public life. He stressed in his speeches on women empowerment while hisarty (GPC) suggesting 10 percent representation in political decision-making. )
To achieve all that in underdevelopment country- like Yemen –during fifteen years is to be considered as.
To achieve all that in one of developing country- like Yemen –during fifteen years is to be considered as hopeful and progressive steps towards stable democracy in the country.
The critical question is : why we want Yemeni democracy to jump to remote distances in order to be on one line with western world –during 15 years only! Could democracy jump over realities of its society!? I do not think that.