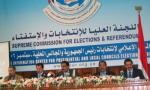 By: almotamar.net
- SANA'A-The Supreme Commission for Elections and Referendum (SCER) has observed 90 election-related incidents in various areas of Yemen, said Ali Saif al-Sharabi, head of the security committee at the SCER.
In a press conference held Thursday, al-Sharabi said the reports the SCER has received indicate that three people were killed during the polling process. These are the head of Khairan district, Hajjah governorate, killed by armed members from the Joint Meeting Parties (JMP); the candidate of the Nasserite Unionist died as he fell off, but no one killed him, in Taiz governorate; the candidate of the General People's Congress (GPC) in Amran governorate was stabbed by a member from the Islah Party. 87 incidents ranged from fire shooting, stabbing with knives, and traffic incidents.
Head of the Technical Affairs at the SCER stated the voting process was carried out normally in all the election centers, but "45 election centers were shut down due to differences among parties." The voting process in these centers will be resumed during the complementary period that doesn't exceed three months, and that the observatory committees could retrieve the voting boxes while they were intact.