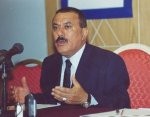 By: almotamar.net
- SANA'A- President Ali Abdullah Saleh described the elections held on 20 September as a democratic and important achievement in the history of the new Yemen.
In a press conference held Sunday in the presidential palace in Sana'a, Saleh praised the Yemeni people as they participated in the September elections, thanking both those who voted and didn't vote for him. He also thanked the National Opposition Council and Joint Meeting Parties (JMP) for participating in the political motion. "The participation of the opposition in this democratic celebration has given the polls importance and presence in the international community. We have to accept the election results, and Yemenis are the winner in these elections," he added.
Saleh affirmed the elections were held in a peaceful, quite atmosphere, with minor incidents that are not worth mentioning. "We are establishing a great future for Yemen, and everyday we learn new lessons from democracy… We have benefited much from previous elections and the remarks of the international observers. Mistakes were avoided in the elections held this year" he noted.
Saleh went on to say that the remarks of the international observers will be taken into consideration. "We are sure that there were no mistakes to comment on. But we are keen to take into consideration any remarks of the international observers that would help us in the next parliamentary elections."
Saleh thanked the international observers, local and foreign media that covered the elections. "You have attended the election campaign rallies and seen the strong presence of the Yemeni masses."
Additionally, Saleh thanked the SCER for making the elections succeed, as well as the military and security authorities that helped provide peaceful and appropriate atmospheres during the elections.
On the other hand, Saleh said the government will work towards implementing the platform and achieve all its goals in the field of development, fighting against corruption, and reducing poverty. Saleh also referred to the relations between Yemen and neighboring countries