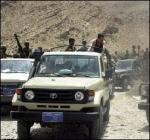 By: Nabil Abdul-Rab (almotamar.net)
- SHABWA- Five French tourists kidnapped by Yemeni tribesmen have been freed, said Brigadier Abdul-Rahman Hanash, head of Shabwa Security Department.
In a statement to almotamar.net, Hanash affirmed the five French tourists are in good condition and they are brought to Sana'a city by a private helicopter.
Hanash denied the news published by al-Sahwa news website that he was exposed to shooting fire during a visit to Rafedh district, where the tourists were kidnapped.
The French nationals were seized on September 9 in Shabwa governorate, southeast of Sana'a, by armed tribesmen who are demanding the release of imprisoned relatives.