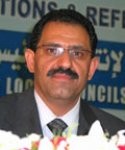 By: Jamil al-Jadabi
- SANA'A-The vote-counting process of the local council elections has completed by 90 percent, and will finish in two days, said Mohammed al-Sayyani head of the Technical Sector at the Supreme Commission for Elections and Referendum (SCER).
In a statement to almotamar.net, al-Sayyani stated that the General People's Congress (GPC) gained around 350 seats at the level of governorates.
At the level of districts, al-Sayyani added that the GPC got 4,400 seats; the Islah 720; the Socialist Party 160; and independent candidates 480 seats.
1,612 candidates vied for 431 seats in the local councils at the level of governorates and 18,901 candidates vied for 6,896 seats at the level of districts.
Local and international observer participated in monitoring the September elections. There were more than 45,000 local observers, and 400 international observers who represented more than 15 organizations.