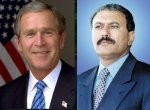 almotamar.net
- SANAA-The US President George W. Bush affirmed that the Yemeni elections proceeded in democratic atmospheres, saying his country received reports from international observers confirming the election were carried out in a fair, transparent and free way and the opposition was given full space to express its issues and presentations largely and justly.
In a telephone conversation with President Ali Abdullah Saleh Tuesday, President Bush also congratulated president Saleh on success of the presidential and local councils elections and the great victory he has achieved in them and the trust the Yemeni people have granted him.
He American president also affirmed that his country highly appreciates the democratic process and that democracy in Yemen is great and constitutes an example in the Middle East region and the United States supports it strongly.
Bush said he is proud of Saleh's leadership and highly evaluates the friendship of the two countries, praising Saleh's steps in favor of his people and homeland. Bush also praised Yemen efforts in fighting terror. The US president affirmed the United States support for development operation in Yemen as well as supporting Yemen's efforts in fighting terror, congratulating president Saleh on advent of the holy month of Ramadan.
On his part president Ali Abdullah Saleh expressed his thanks and appreciation to President Bush for his good feelings, affirming Yemen's keenness on consolidation of its relations with the United States for the interest of both friendly peoples and countries.