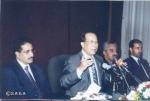 By: almotamar.net
- SANA'A- Prime Minister Abdul-Qader Bajammal attended Thursday the ceremony held in Sana'a to announce the final results of secondary education as well as the prominent students in both scientific and literary sections for the academic year 2005-2006.
Bajammal directed the Minster of Education to start the National Strategy for Secondary Education. "Education is the key to development. Future challenges require a distinctive generation," he noted.
The final results show that 135,171 students passed in the scientific and literary sections, the former comprising 83.5 percent while the latter 79.6 percent. The total number of secondary education students reached 182,485, and that only 163,955 students sat the final examinations. 18,035 students didn't sit the final examinations, and 13,042 students have been deprived of the final results due to cheat.
Deputy Minister of Education Jamil al-Khaledi stated the Ministry will hold Monday a celebration to honor prominent students.