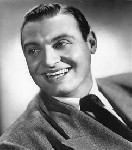 almotamar.net Google
- Singer Frankie Laine has died after suffering a heart attack. Laine - one of the most popular singers in the 40s and 50s - passed away in San Diego's Mercy Hospital aged 93, on Tuesday (06.02.07). The veteran singer, who sold an estimated 250 million albums during his career, had been initially admitted for hip replacement surgery.
Laine, whose hits include 'I Believe' and 'Jezebel', gave his final public appearance last year singing his first big hit 'That's My Desire' on US TV.
Music producer Jimmy Marino said: "He was one of the greatest singers, one of the last Italian crooner types."
Born Francesco Paolo LoVecchio to Sicilian parents, Laine struggled to make a living until he reached his 30s.
He enjoyed his first taste of success in 1947 after jazz musician Hoagy Carmichael saw him performing in a Los Angeles nightclub.
Laine said: "Ten years is a good stretch of scuffling, but I scuffled for 17 years before anything happened and 17 years is a bit much."
Laine sang the instantly recognisable theme song to the 'Rawhide' cowboy TV series and Mel Brooks' Western spoof 'Blazing Saddles'.
His other hits include 'Mule Train', 'A Woman In Love' and 'Hey Joe'.
Laine once said his approach to music was inspired by Louis Armstrong playing the trumpet. He explained: "I use my voice like a horn."
During a career which spanned four decades, Laine starred in a series of musical films including 'Sunny Side of the Street' and 'When You're Smiling' and hosted three different variety shows in the 50s.
Laine's first marriage, to actress Nan Grey, lasted for 40 years - until Nan's death in 1993.
He is survived by wife Marcia Ann - whom he married in 1999 - and stepdaughters Pamela Donner and Jan Steiger from his first marriage.
Laine's family said he would be remembered for the beautiful music he brought into the world and his sense of humour.