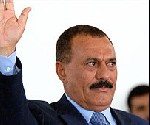 al,otamar.net AP
- San'a (Yemen), March 31. (AP): Yemeni President Ali Abdullah Saleh named a new Prime Minister on Saturday following his predecessor's resignation and asked him to form a new Government, the state television reported.
Ali Mohammed Mujur, 59, the former Electricity Minister, replaced Abdul-Kader Bajammal, who had served as Prime Minister since March 2001. Bajammal is also the secretary general of the ruling General People's Congress Party.
It was not immediately clear why Bajammal resigned, but the move followed growing public frustration over Yemen's ailing economy and alleged Government corruption.
Yemen discovered oil in 1986 but average citizens. Unemployment is 35 percent and the average per capita income is only $900.
According to the country's laws, Mujur has two weeks to form a new Government and must present the new Government's program to both the President and the Parliament for approval.
Yemen is a close ally of the United States in the war on terrorism, waging a crackdown that has led to the arrests or killings of dozens of Islamic militants. The United States has also signed an economic pact with Yemen intended to open up its economy to international trade and investment.
Saleh has ruled since 1978, first as President of North Yemen and then as head of the unified State after the May 1990 merger of the north and south.
Mujur will be the 7th Prime Minister since 1990.