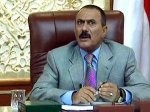 almotamar.net
- 26september.net mentioned Saturday that president Ali Abdullah Saleh has called on leaders of Yemeni political parties and organisations for a meeting on Monday for discussion of national issues.
President Saleh's call foe meeting of political parties comes one day after his call on all in the homeland; individuals and parties and civil society organisations, for practicing democracy with a sense of national responsibility in the way making it a means for construction and development and for making development and progress in the homeland as well as for the spread of values of dialogue and fraternity and love in addition to abandoning all forms fanaticism, division and hatred in the society leading to achievement of the higher national interest.
In his statement on the first anniversary of the presidential and local elections held in September 2006, the president said "As we have repeatedly confirmed many times the dialogue remains he foundation for tackling all issues and problems from which the society suffers rather than via instigating chaos or wrangles on media instruments."