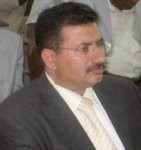 almotamar.net
- Member of the General People's Congress (GPC) member of the General Secretariat Ali Al-Khadhmi unveiled an administrative and services working plan, saying they in the office of administration and services intended to carry out in the next weeks. The aim of the plan is to assess administrative and services performance at the levels of the GPC's ministerial and executive bodies and inside components of the GPC, starting from the General Secretariat down to branches of the governorates.
The head of the Services Office made it clear in a statement to almotamar.net that their plan intended to be implemented aims at activation of administrative and services action in the light of the electoral programme of the president and in line with programmes of the GPC government that would lead to rectify a number of previous administrative and service situations.
The GPC leading member indicated they have felt response from the government, represented by head of the government, the member of General Committee of the GPC Dr Ali Mujawar.