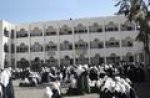 almotamar.net
- Japan on Monday offered a grant for enlargement of a girls school in Al-Wazia district, the governorate of Taiz in Yemen.
A press release almotamar.net received Monday a copy of it mentioned that the grant would be used to build services facilities inside Al-Zahraa School for Girls and that is as part of the Japanese programme of grants offered for projects of human security aimed at supporting private small projects that meet human needs in the developing countries, such as education, primary health care and water supplied in the countryside.
The press release made it clear that project will be carried out in coordination with another project in Taiz called BRIDGE where the Japanese International Agency for Cooperation is working there since 2005. The agency had built six schools during the years 2006-2007.
It is to be mentioned that in the fiscal year April 2007-March 2008 the Japanese government funded 11 private projects in Yemen so far with a cost amounting to $854.201 thousand as part of the previous programme of Japanese grants.