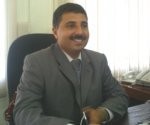 almotamar.net
- Head of the Information Office of the General People's Congress (GPC) expressed Wednesday his astonishment of statements of Abdulwahab al-A'nisi, secretary general of the Yemeni Congregation for Reform Party (Islah) and the feeble justifications he presented on the Joint Meeting Parties not responding the invitation extended by the president of the republic to the JMP for a meeting and dialogue on all matters concerning the homeland.
Al-Shamy said<" It is regretted that al-A'nisi resorted to his usual style of prevarication and twisting facts in presenting such flimsy and illogical excuses on the reasons why they did not respond to the invitation and linking that to a media campaign against the JMP in the government and party newspapers."
Head of the GPC information office said the president has called on all political parties and organisations for conducting an open dialogue out of his national responsibility and keenness on embodiment of the principle of national partnership and conviction that all are partners in building the homeland. But the vision of haughtiness and expulsion of others dominated over the thoughts and pursuit of the leaders of the JMP and under fomenting by leadership of the Islah especially al-A'nisi when they refused to meet with the other parties that are legitimate and many of them are deep-rooted and played an effective role in the national march even before approval of political pluralism and afterwards. The JHMP could have attended and submitted the question of the media campaign during the meeting and dialogue as long as there are good intentions. Al-Shamy described what al-A'nisi as an expression of political bankruptcy and consolidation of the culture of escaping from facing facts and an attempt to create a new crisis.
Al-Shamy considered that stance as being reflected with its negative impact on interest of the homeland and the citizens, the national unity and efforts of development and investment, requesting the JMP to portray the spirit of seriousness and responsibility.