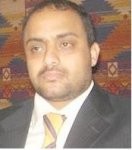 almotamar.net
- The official spokesman for the committee on implementing Saada agreement Yasser al-Awadhi said Sunday that all types of telephone lines, fixed, mobile, in all districts of Saada governorate have been operated again.
In a statement to almotamar.net al-Awadhi said the re-operation started from Saturday and that move comes within the framework of the state endeavour to restore situations in the governorate to their normal function in a way in harmony with creating atmospheres convenient for completing implementation the remaining articles of the agreement on ending the sedition.
Al-Awadhi also affirmed that the committee is continuing its work, pointing out it would go back to Saada to oversee the remaining points of the agreement after the holidays of Al-Fitr Eid.