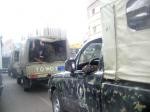 almotamar.net
- Security authorities in the last few days arrested two of Yemen al-Qaeda organisation.
The arrested al-Qaeda members were captured in Sana'a and they are Ahmed Ali Hamran and Abduladhim al-Hattar who are of the dangerous elements in al-Qaeda organisation and wanted by the security for many cases.
Asrarpress website quoted sources it described as reliable as saying the two persons are accused of also hiding one of threw escapees elements wanted by the security for terrorist issues, who is also a Yemeni affiliated to al-Qaeda organisation. The sources denied information reported by some online news websites claiming that those two arrested were preparing for a suicide operation, describing the information as groundless.
The source pointed out that the capture of al-Qaeda members Hamran and Hattar was a result of investigation and monitoring and follow-up carried out by security forces over the past period.