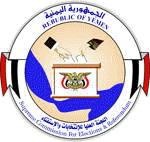 almotamar.net
- Political parties and organisations in Yemen resumed Monday their meeting at the headquarters of Political Parties and Organisations Affairs Committee chaired by Abdulqader Bajammal, Secretary General of the General People's Congress (GPC).
The parties agreed on discussion of amendments in the election law and the proposed amendments for the law of political parties and organisations.
The meeting discussed suggestions and visions presented by the participants regarding the supreme commission for elections and referendum and its formation. The meeting demanded abiding by the constitutional and legal texts and provisions of formation of the judges committee to ensure independence and impartiality.
The participating parties were unanimous on that the proposition which is discussed by the parliament on amending the law stipulates the formation of the commission of judges is in line with text of article 159 of the constitution.
The parties attending the meeting affirmed hat political accord will not achieve impartiality and independence if the supreme commission for election and referendum formation is confined to a number of parties because that violates spirit and intentions of the project.
The participants demanded the realization the principle of full accord in formation of the election commission by all political parties and organisations recognised legally on equal basis so that the nature of impartiality, accordance and equality is achieved among all because election is a right for all parties to take part in and manage it.
The parties also discussed in their meeting the electoral system and presented their perceptions on it regarding parliamentary, shoura and local elections. They agreed that the subject will be on agenda of the next meeting to be held on 26 December 2007.
With respect to the law of political parties and organisations the meeting agreed to discuss the visions and ideas on amendments concerning the following subjects:
-reconsideration of formation of the political parties and organisations,
-reconsideration of article 19 of the law concerning the financial support,
-defining aspects of financial support for the political parties and organisations activities regarding their conferences and engagement in general elections and,
-reconsideration of the 4th chapter of the law of political parties and organisations regarding financial revenues of the parties.
The meeting has on conclusion dispatched congratulatory cable to the president of the republic, the Yemeni people and the Arab and Islamic nation on Al-Adha Eid.