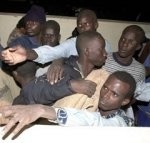 almotamar.net google news
- GENEVA (Reuters) - More than 1,400 would-be migrants, mostly Somalis and Ethiopians, have drowned off Yemen this year trying to cross the Gulf of Aden on rickety boats run by brutal smugglers, the U.N. refugee agency said on Tuesday.
The toll includes nearly 200 people believed to have died last weekend after one vessel capsized off the coast of Yemen and another broke up after hitting a rock.
Desperate passengers have been beaten, pushed overboard and doused with acid on perilous journeys during 2007, according to aid workers who are trying to halt further loss of life.
"This has been a tragic year in the Gulf of Aden. As of now we have statistics that more than 1,400 people have died. These are the ones that we have recorded, and there might be more," Astrid van Genderen Stort, spokeswoman of the United Nations High Commissioner for Refugees (UNHCR), told a news briefing.
Some 28,300 people leaving northern Somalia, mainly Somalis and Ethiopians, have made it to Yemen's shores on 300 boats this year, according to the Geneva-based agency. Last year nearly 29,000 made it and at least 328 died and 310 went missing.
Many Africans consider Yemen a gateway to other parts of the Middle East and the West.
The top U.N. human rights official, Louise Arbour, said those seeking refuge or work abroad often all prey to abuse.
"Migrants are among the groups most exposed to human rights violations in the 21st century and will continue to be so if we do not act now with serious determination," Arbour said in a statement marking International Migrants Day on Tuesday.
Aid agencies are stepping up their information campaigns for migrants and asylum seekers, warning them of the dangers on the journey from Bossasso, a major human smuggling hot-spot in Somalia's semi-autonomous Puntland administration.
The number of boats leaving Somalia rose in September and October, due to insecurity in the Horn of Africa country, but has dropped since as a result of more frequent patrols by the Yemeni army and coast guard, according to UNHCR.
In the latest incident on Sunday, a boat with 270 people aboard hit a rock off Yemen while the smugglers tried to avoid the coast guard. At least 173 people made it to shore after the vessel broke into three pieces, but many were feared drowned.
"Survivors on the boat told us that while the sea was rough, the smugglers were even rougher. They were beating passengers harshly," van Genderen Stort said.
A male passenger who could not stand the beating any longer had jumped overboard and drowned before the accident, she said.