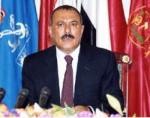 Almotamar.net Saba
- SANA'A, Dec. 18 (Saba)- President Ali Abdullah Saleh delivered a speech on Tuesday on the holy occasion of Eid al-Adha, wishing Yemenis and the Arab and Islamic nation a continuous happy return of this occasion with more progress and stability.
He called on all Yemenis to look forward to reinforcing consolidation force and work for developing this great country on the basis of the Yemeni unity.
"This country is in need for efforts of all citizens in all fields for the sake of building a sustainable development and to achieve the supreme interests of the nation," Saleh said.
He added that we have to avoid any irresponsible press and political speech that does not serve the interest of the country and its unity and social peace, renewing his concern to adhere to dialogue in the framework of preserving the national principles.
He made clear that dialogue should not be proceeded by some dictations or terms for this could harm understanding and agreement.
The nation is in need for more work and less talk and so efforts should be focused on fields of development, investment and projects of infrastructure to achieve more economic and strategic projects in different fields in order to create more job opportunities and limit unemployment, president said.
He also came across religious implications of Eid al-Adha as it is not only a religious occasion but it represents the meaning of sacrifice and struggle in addition to timing with the Hajj ritual.
President considered the standing of Hajjis in Arafat the clearest expression of the unity of the Arab and Muslim nation and a confirmation of the reality of equality.
Saba