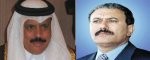 almotamar.net
- President Ali Abdullah Saleh on Saturday received a telephone call from the Somali President Abdullah Yusuf, congratulating him on Eid Al-Adha and wishing the Yemeni people and the Arab and Islamic nation more prosperity. During the telephone conversation the two leaders also exchanged views on developments in Somalia.
President Saleh reaffirmed to the Somali president Yemen's stand supporting establishment of peace in Somalia in the manner leading to achievement of security and stability as well as Somalia's sovereignty and unity.
Meanwhile president Saleh received Eid Al-Adha congratulations on phone from secretary general of the Gulf Cooperation Council Abdu; rahman bin Hamad al-Attiyah.