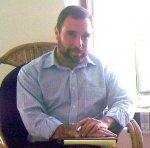 almotamar.net
- SANAA, 25 Dec (Almotamar.net) - Director of the US National Democratic Institute (NDI) in Yemen Peter Dimitrov on Tuesday called for supporting the initiative of the president of the republic and the constitutional amendments, considering the presidnet's and the ruling party moving towards the presidential system as a source of pride as it would match the systems in the democratic countries.
The NDI director said they were satisfied for those amendments and the president's call for supporting dialogue with the political parties and that they agree with him as that would have positive impact on improvement of the ruling system and the democratic process.
In his exclusive statement to almotamar.net the NDI director pointed out that the amendments would lead to enhance the power and importance and role of the parliament unlike the fears that some express.
On the democratic course and parliament in Yemen Mr Dimitrov said it was witnessing noticeable development and that his institute has chosen Yemen as a major headquarters for its activities and programmes in four countries, benefiting from its work and the Yemeni parliament experiment in this regard. He said the parliament in Yemen has gone an advanced distance by passing legislations pertaining to fighting corruption and its continuous accountability of the government ministers and that does not happen much in many parliaments. He added he was looking forward to a bigger role by members of parliament in the processes of budgets and communication with civil society organisations.
On the activity and nature of the NDI he said the institute is known of its work in the democratic field rather than politics and the institute, which has been working in Yemen for 12 years, has four major programmes all of which pour into the favour of democracy and parliamentary life.