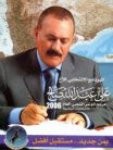 almotamar.net
- President Ali Abdullah Saleh is expected to meet next Saturday the consultative committee entrusted with the follow-up of implementing the president's election platform of the latest presidential elections.
Chairman of the committee Dr Ahmed Oman Bamashmous said Thursday the committee would present to the president a report on its work in the past period based on the field visits to governorates for implementing the platform and its plans for visiting ministries and institutions to come out with assessment of what has been fulfilled in line with prepared regulations.
26 September newspaper for today has quoted chairman of the committee as saying the committee has prepared a complete booklet on all that has been done since the formation of the committee including the administrative structure and the executive regulations in carrying out and assessment of the electoral programme covering 26 premises. He pointed out that members of the committee have been divided in accordance with their specializations into working teams and distributed on all the governorates of the county in order to follow up implementation and prepare reports based on reality.
On the other hand the parliament and the shoura council are expected to hold a meeting in the next few day to discuss, among other issues, a report by the government on what has been so far accomplished in dealing with issues of the retired and lands and assessment of the level of implementation of the presidential election platform as well as the future plans in this regard.