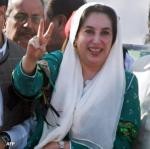 almotamar.net
- The Republic of Yemen on Thursday strongly condemned and denounced the suicide attack that killed the Pakistani opposition leader Ms Benazir Bhutto, the leader of the Pakistani People's Party and former Pakistani Prime Minister while she was attending a political rally of her party in Rawalpindi near the capital Islamabad.
A Yemeni official source described the explosion as regretful terrorist at, considering it as terrorist suicide explosion aimed at destabilization of Pakistan and its national unity. The source called on the Pakistani government and all political forces to be aware of those plans and to make it miss the opportunity for realizing its goals and to deal with the attack of aggression with wisdom in the way keeping security and stability of Pakistan and keep the country away from being dragged into violence and reactions.
The source stressed the importance of all international efforts joining forces to fight and eliminate terror and hunt down perpetrators of the incident to receive just punishment.
The source expressed condolences of Yemeni government and people to the Pakistani government and people and to family of leader Bhutto as well as families of the victims of the incident.