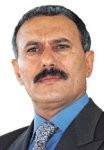 almotamar.net
- President Ali Abdullah Saleh received Saturday chairman and members of the no-governmental consultancy committee for follow-up implementation of the election platform. The committee presented to the president a report on what was so far fulfilled of the programme at various levels and the premises included in it in addition to the committee's concepts on the issues of most priority in the period of 2007-2009.
The premises are the financial, administrative, legislative, legal axis, economic and development axis, the political and the media and social, in addition to mechanisms of work and follow-up implementation for the realization of the goals and tasks. The report also included drawing up a timetable, establishment of tenders and bidding committee and decision of using it through taking steps for the establishment of an independent committee for tenders and biddings and enhancement of the principle of transparency and accountability.
The president praised efforts of the committee for the implementation of the president's election platform, indicating the importance of follow-up in coordination with the government on what has been accomplished and the timetables for carrying out the issues contained in the programme.