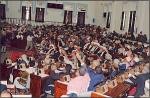 almotamar.net
- A draft legal amendment presented by the government to parliament in late November last year added a text prohibiting female circumcision and considers it a crime of aggression on human body safety and makes it among the legally punishable crimes.
The draft amendments of some articles of the law No. 45 for the year 2002 concerning the child rights, affirmed Yemen's respect of rules of the humanitarian international law related to protection of the child against dangers of armed disputes.
The draft prohibited children under 14 years old from work and also employing them in industrial works before completing their 15th year of age.
Article 106 of the amendments stipulated encouragement of the state to open nurseries at ministries and institutions where the number of mother employees exceeds ten and the possibility of more than one side to share in the opening of a nursery house in case the woman employees is less than ten mothers.
The amendments obligated the Ministry of Social Affairs and Labour to grant a monthly salary enough for living normally to each child who has no breadwinner and has no any source for living and to children whose parents are unknown and prisoner children who have no breadwinner until they leave prison.
The amendments draft permitted the distinguished child to manage his property under permission of his guardian if he has completed his 15 years.
The amendments included 30 articles of the law on the child rights.