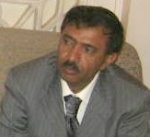 almotamar.net
- A General People's Congress (GPC) source commented Sunday on what published by opposition media instruments, mainly al-Sahwa and Annas newspapers on the recent measures taken by the GPC's General Committee in the party's Information and Political sectors.
The source denied that the GPC leading member Abdulrahman al-Akwa is recluse in Cairo, confirming his presence in the capital Sana'a.
He said it seems that the one who leaked for them that information has driven then to mistake and added they have another mistake in claiming that such appointments made by the GPC are the authority of the party's general conference. He affirmed they are ignorant about provisions of the GPC rules of procedure. Assistants secretary general are elected from the permanent committee according to the GPC's rules of procedure rather than by the general conference.
The source affirmed that there are no wings or differences or Salafi ideas in the GPC, adding that he wishes that the media instruments should be careful in seeking credibility if they want to have the people respect of them.