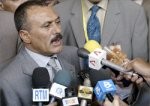 Almotamar.net, Saba
- President Ali Abdullah Saleh left on Monday for the Spanish capital Madrid on an official visit to hold talks with Spanish officials on bilateral cooperation relations and crucial issues in the Middle East region.
Upon his departure, President Saleh said to Saba that the visit would provide an opportunity for inviting the European businessmen and firms to invest in Yemen in diverse domains.
"We hope the European Union exert pressure on Israel to lift the blockade imposed on the Palestinians in the Gaza Strip and convince Israel to obey the international law", said President Saleh.
President Saleh articulated his visit to Spain comes in response to an invitation from the King of Spain Juan Carlos.
It is expected that President Saleh will hold talks with the King and senior Spanish officials on developing the bilateral relations between the two countries through signing a number of joint cooperation agreements.
President Saleh said the talks would touch upon the latest developments in the Middle East region topped by the blockade being imposed on the Palestinian people of the Gaza strip and the Israeli flagrant violation of international legitimacy and international laws.
"The Yemeni-Spanish talks will include the situations in Somali and Iraq in addition to the fight against global terrorism", added Saleh.
Saba