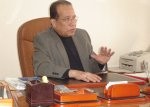 almotamar.net
- Secretary General of the General People's Congress (GPC) Abdulqader Bajammal on Monday affirmed the GPC keenness on developing the democratic and political action in Yemen.
In his meeting on Sunday with the British ambassador to Yemen Bajammal said that task is one of the most outstanding tasks around which the GPC programmes and interests are pivoted. The Secretary General discussed with the British ambassador the progress of dialogue with political parties and organisations and the GPC's directions in the upcoming parliamentary elections.
The meeting also discussed the subject of the local authority and its developing it by moving to the system of local rule and the proposals related to it through constitutional amendments declared by the President of the republic.
With respect to bilateral cooperation of Yemen and the United Kingdom Mr Bajammal discussed with the British ambassador issues concerning areas of bilateral cooperation especially in the field of education, justice and judiciary affairs and administration. The discussion dealt with the possibility of supporting teaching of English language at the primary classes beginning from the fourth year as a first step that would lead teaching it from the first year of primary education.
Source: Al-Mithaq