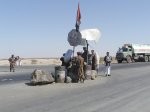 almotamar.net
- Security forces prevented Monday Sheikh Naji al-Shaef, one of the senior sheikhs of Bakil from passing through a security checkpoint at the outskirts of Sana'a because of the group of gunmen that was in his company.
According to Nabanews website that quoted eyewitnesses security men manning the checkpoint located behind Sana'a Airport stopped on Monday the Sheikh's cars and did not allow him to pass the checkpoint because there were 25 gunmen accompanying him and the officer in charge of he point told the sheikh there were orders for taking strict measures in the implementation of weapon banning law on any one whosoever and asked the sheikh to return to the place he came from.
The same source added that Sheikh al-Shaef argued with the security men and tried to pass by force but after the insistence of the security men there he was forced to return. The sources affirmed that the situation ended peacefully and without any problems between the two sides.
The event comes as part of many similar cases with Yemeni sheikhs within the implementation of the weapon banning law, some of them ended in peace and in some cases there disputes ended in exchange of fire and victims resulted of such clashes.
The campaign of preventing carrying weapons carried out by the ministry of interior is considered the largest in the history of Yemen aimed at curbing dangers of weapons spread that caused the death of any innocent people every year.