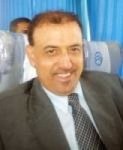 almotamar.net
- The Assistant Secretary General of the General People's Congress (GPC) for Political Affairs and External Relations sector Sultan al-Barakani and Head of the Youth and Students Office Ahmed al-Maysary discussed Tuesday with chairman of Arab Students Federation Ahmed Mubarak al-Shatir and the federation's secretary general Nidhal Ammar the project of the statute o the of the General Union of Yemen Students and rules branched from it.
The meeting also discussed unification of the Yemeni students movement according to agreement of principles and honour charter signed by the political parties and organisations under auspices of the Arab Students federation, at the beginning of 2007.
Al-Barakani and al-Maysary got acquainted with the draft statute for the federation presented to the constituent general conference of the general federation of Yemen students after it was enriched with opinions and suggestions, which was presented by the legal committee entrusted with preparing it according to the agreement of principles.
Members of the consultative committee, chairmen of student sectors in the political parties were asked to prepare mechanism for elections of the general federation of Yemen students at universities at utmost date of 5 February 2008. Then it was agreed to fix a date for holding the constituent general conference of the Yemen general federation on 27 April 2008 and that is according the agreement of principles signed by political parties and organisations.