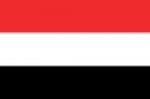 almotamar.net
- Yemen has officially protested Wednesday to Eritrea on the latter's continued detention of Yemeni fishermen for almost a year.
Yemen's Foreign Ministry has summoned Eritrea's ambassador to Yemen Mousa Yassin Sheikhudin and informed him on the Yemeni government protest for the continuation of detaining Yemeni fishermen for nearly a year and sending them to military court.
The Yemeni Foreign Ministry demanded the Eritrean government speedy release of the Yemeni fishermen.