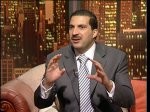 Almotamar.net, Saba
- Egyptian Islamic preacher Amr Khaled arrived at Sana'a on Sunday to participate in the launching of Life Makers' project of ensuring about 100 poor families.
Speaking to Saba, Khaled said that he will also take part in a development and social project under the title of "activate youth to face poverty and illiteracy" which aims at helping about 4500 children to return to schools.
Khaled added that he will deliver a number of Islamic lectures in the capital Sana'a and Dhamar and Ibb provinces to call on Yemeni youth to use the internet for making a dialogue with the world in order to define the Palestinian cause.
Khaled affirmed that he will call on the Yemeni people to support the Palestinian people in the Gaza Strip suffering from the Israeli brutal aggression.
"I will ask Yemeni youth to keep praying for their brothers in Palestine and keep donating the blood and money," he added.
Worth mentioning, Life Makers is a project founded in a number of countries such as Yemen, Jordan, Algeria, Sudan and Egypt. The project is to target about 7000 Arab families during 2009 in participation by 35000 volunteers.
Saba