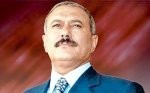 Almotamar.net
- President Ali Abdullah Saleh held a meeting in Aden Wednesday with chairman of trustees of the national establishment for fighting cancer Abdulwasie Hayel Saeed and a number of members of the establishment, Aden branch.
The establishment officials informed the President on its activities in Aden governorate and its plan for building al-Amal Centre for Curing Tumours in the governorate. The centre is aimed to alleviate suffering of the patients affected with cancer and to offer its services to patients in Aden, Abyan, Lahj and Dhalie governorates.
The President gave his directives to speeding up finishing this project by the national establishment for fighting cancer and directed the relevant authorities to provide a suitable plot of land for the project and in the allocated to it and conformity with the prepared plan.