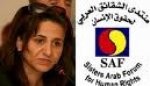 Almotamar.net
- Ambassador of the Kingdom of Holland to Yemen that supports programme of the sisters Forum said on Sunday that his country supports and helps Yemen for a long time in the field of drawing up policies and planning pertaining to curb the phenomenon of valence directed against the woman and the children. For her part , Chairwoman of the Sisters Forum SAF Amal al-Basha disclosed cases of rapes , which she did not specify their number committed by al-Houthi group in Saada province , north Yemen , in an dictation to a sample of other crimes against the women, children and growth.
Those remarks came in an opening of a workshop organized Sunday by Arab Sisters Forum for Human Rights. It was the first training workshop on mechanisms of legal protection for curbing violence against women and children. It comes as part of its programme on the legal protection for women and children against violence, financed by the Dutch kingdom.
The Dutch ambassador clarified that his government supports symposiums in this regard for reaching the targeted goals in he field of fighting violence, talking about two types of support; one technical and the other one financial. He added that there must be understanding based on the social gender and the dialogue should be between different segments so as to reach to important results.
For her part Amal al-Basha said her Forum seeks to draw up plans and define mechanisms with her partners for limiting violence against women and children and fighting it especially sexual violence and to make religious men and women and civil society organisations realize the problem of fomenting and violence and indicated to cases of rape committed by al-Houthi group , in reference to a sample of crimes of the Houthi elements of sabotage and terror against women and children in the province of Saada , north Yemen.