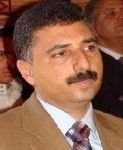 Almotamar.net
- Head of the Information Office o the General People's Congress (GPC) Tareq al-Shamy has clarified that relations of the Yemeni tribes with al-Qaeda are restricted to the fact that some persons from sons of tribes are affiliated to al-Qaeda , whether those who had participated in Afghanistan or from students abroad , who have been recruited by al-Qaeda.
But al-Shamy has confirmed that the Yemeni tribes have patriotic orientation they do not accept extremism or accept any practices of terrorist acts , whether targeted government institutions or foreigners.
In a statement to Al-Arabiya TV satellite Chanel on Sunday, al-Shamy said concerning the warnings to tribes of not hiding al-Qaeda elements, the warnings were not new and they were since an early time addressed to all citizens for not allowing al-Qaeda elements to enter their areas. He has reminded of the President of the republic meeting with sheikhs of tribes in Mareb, Shabwa and Al-Jawf, in addition to social personalities in the three provinces, requesting them not to hide any elements of al-Qaeda and they promised to chase them.
Al-Shamy pointed out that the latest warnings came in coincidence with the recent hits to al-Qaeda elements that resulted in killing and arresting a number of al-Qaeda elements and leaders.
He added that those warnings confirm the state concern about safety of the citizens because al-Qaeda elements try to use citizens as human shields, thinking by that they would prevent the state from chasing them and that is why came the warnings to citizens by the state against giving shelter or hiding elements of al-Qaeda.