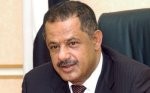 Almotamar.net, Saba
- Sana'a - Caretaker Prime Minister Ali Mujawar called on Wednesday for dealing wisely with the events taking place in the country away from the partisan and sectarian interests.
In his speech at the opening of Justice, Democracy and New Yemen Conference held in the capital Sana'a and organized by a number of civil society organizations, Mujawar urged all parties to agree on a vision that safeguard Yemen from chaos and sedition.
He valued the active role of these organizations and their participation in handling and discussing the current crisis on a political, social, cultural, economic and institutional base.
Democracy, justice and the new Yemen are desired by all shades of civil society, Mujawar said pointing in this regard to the importance of benefiting from the great values and principles that urged by Islam.
Mujawar expressed his confidence that the good efforts of sons of the homeland, loyal brothers and friends would contribute to bring the country to safety.