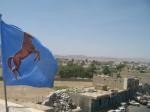 By: Jamil al-Jadabi
- SANA'A- The preliminary results of vote-counting show advance of the General People's Congress (GPC)'s presidential candidate, Ali Abdullah Saleh, by more than 80 percent of votes in Amran governorate and more than 90 percent in Sa'adah governorate.
Sources working in the vote-counting committees told almotamar.net that the GPC's presidential candidate got about 40,000 votes, while Faisal Bin Shamlan, candidate of the Joint Meeting Parties (JMP), got 2,500 votes, in 40 polling stations of Sa'adah governorate.
The sources stated that Saleh got 1,190 votes, and Bin Shamlan 29 votes in Haidan district.
In other six polling stations, Saleh got 5,582 votes, while Bin Shamlan got 46 votes in Saqain city.
In al-Saghra district, Saleh scored 1,0255 votes and Bin Shamlan 596 votes in seven polling stations.
In Kataf district, the GPC's candidate got 7,787 votes, and Bin Shamlan 393 votes. In Razeh district, Saleh got 5,119 votes and Bin Shamlan 896 votes in nine polling stations.
In Baghem district, Saleh gained 1,336 votes and Bin Shamlan 72 votes in three polling stations.
In Ghamr and al-Shada districts, the preliminary results show that Saleh gained 8,460 votes while Bin Shamlan got only 575 votes.