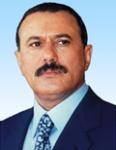 By: almotamar.net
- SANA'A- The Supreme Commission for Elections and Referendum (SCER) announced Saturday that Ali Abdullah Saleh, candidate of the General People's Congress (GPC), was re-elected to another seven-year-term, scoring 77,17 percent of the vote, while his main rival Faisal Bin Shamlan, presidential candidate of the Joint Meeting Parties (JMP) bloc, received 21,82 percent of the total 6 million votes cast.
The SCER said Saleh got 4,149,673 votes; Bin Shamlan 1,173,025;
independent candidate Fathi al-Azab 24,524; candidate of National Opposition Council Yassin Abdu Saeed 21,642; and independent candidate Ahmed al-Majeedi 8,324 votes.
According to the SCER, 9,248,456 voters were registered in the polls, but the turnout was 65,15 percent, where 6,025,818 voters participated in the September elections. 648,580 votes were cancelled
Five candidates ran for presidency. Ali Abdullah Saleh, candidate of the GPC; Faisal Bin Shamlan, candidate of the JMP opposition bloc; Yassin Abdu Saeed ,candidate of National Opposition Council; Fathi al-Azab and Ahmed al-Majeedi independent candidates.
As for the local council elections, there were 1,612 candidates at the level of governorates, vying for 431 seats; and 18,901 candidates at the level of districts, vying for 6,896 seats.
Local and international observer participated in monitoring the September elections. There were more than 45,000 local observers, and 400 international observers who represented more than 15 organizations.