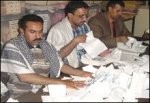 Almotama.net
- Taiz-Semi-final vote-counting results in the governorate of Taiz revealed there was no Islah party candidate and a sweeping GPC domination over all districts of the governorate.
The results indicate that 21 GPC candidates have won out of 23 seats of Taiz local councils, and one YSP candidate for the district of Mashraa at a time vote-counting is still going on at the district of Al-Shamaitin with a big advance of the GPC candidate.
According to the results gained by almotamar.net the governorate has seen defeat of many leaders from members of the JMP, mainly the head of the political office of the Islah party Habib Bajash al-Asbahi who was defeated by the GPC member at the district of Al-Mudhafar.
Preliminary indicators of the vote-counting results affirm a GPC overwhelming victory against modest presence of the JMP which scored one local council seat in one of the districts.