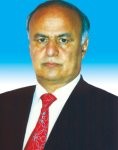 By: almotamar.net
- SANA'A- Vice-President Abdu Rabbu Mansour Hadi affirmed Yemeni people have proved through the September elections that democracy is their way to a prosperous future.
"The whole world has authenticated the fairness of the elections as there were around 500 international observers, and 45,000 local observers. The September elections were held in open democratic atmospheres," he said.
Hadi stated the democratic experience in Yemen has become steady, adding the election results represent a logical reply to those who deny the achievements realized throughout Yemen. He congratulated Saleh on the landslide victory he gained in the presidential elections, considering him the maker of the unification.