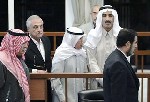 AFP
- BAGHDAD -- Saddam Hussein was thrown out of court for the third time in as many hearings of his genocide trial Tuesday, prompting a revolt among the defendants and their ejection.
The hearing then proceeded swiftly in front of an empty dock as seven witnesses testified about abuses committed by Saddam's security forces in the course of the 1988 Anfal campaign against Iraq's Kurdish minority.
Judge Mohammed Al Oreibi Al Khalifa then adjourned the trial until October 9 to give the defendants time to sort out the situation of their absent defense team, which is boycotting a court that it decries as illegitimate.
"You are a defendant, I am the judge," the judge said, as he ordered an argumentative Saddam to leave the courtroom soon after the start of the session, the 12th day of the Anfal trial.
The ousted Iraqi leader left the courtroom with a smile on his face, in what is becoming a familiar ritual. He was also thrown out of two previous sessions after refusing to be silent when so ordered by the judge.
Saddam's ejection angered his six co-defendants, including former Iraqi military commander Sultan Hashim Ahmed Al Tai, who refused to sit down and continuing to shout and wave his finger at the judge.
"Don't raise your voice at me, you are the defendant," the judge said before also ejecting Hashim from court. The other accused demanded to be allowed to leave and were eventually ejected by the judge, who declared a one-hour recess.
The trial has been plagued with problems since the Iraqi government's decision to remove former presiding judge Abdullah Al Ameri on the grounds that he was too lenient on the accused.
In the following session September 20, the defense lawyers protested against this move and walked out of the proceedings, sparking protests by defendants who did not want to be represented by court-appointed lawyers.
Khalifah began Tuesday's session with a stern warning to Saddam to behave himself during the trial and not speak out of turn.
"You are a defendant here; you have rights and also obligations. You can defend yourself, question witnesses," said the judge. "And I am ready to allow you, but this is a court, not a political arena.
"By disrespecting the court, you are only damaging your cause," he added.
The first witness of the day described how he served in the Iraqi army, was a prisoner of war in Iran, and then returned to his village in 1990 to find it destroyed and his wife and four children missing.
The witness then angrily recited a Koranic verse, directing it at Saddam.
"Do not think God is unaware of what the oppressors do, for he delays them to a day when all eyes are observing," said Aasi Mustafa Ahmed.
Witness after witness described how their villages were attacked and they were rounded up by security forces and imprisoned. Many never saw family and relatives again.
"If you gave me all of Iraq, it would not bring back my brothers," said witness Amina Ahmed Ali, drying her tears at the end of her testimony.
Thamina Hamid Nuri, wearing a white headscarf and sporting tribal tattoos on her chin, described her imprisonment and the death of three of her children.
"They beat my three-year-old son in front of me; he stayed unconscious for one-and-a-half hours. We were forced to drink contaminated water, the children vomited and suffered from diarrhea," she said.
Kurds have described people dying of poison gas attacks, suffering in hospitals with burning and peeling skin, and being transferred to grim prisons in the south of the country.
Saddam faces charges of genocide, war crimes, and crimes against humanity and faces the death penalty if found guilty.