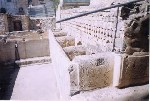 Almotamar Net
-
by Selma Al-Radi
[Qudâd is an ancient water-proofing plaster that has been used for many millennia in the Arabian Peninsula, particularly in Yemen where it probably originated. The earliest example of qudâd is found on the sluices of the famous Marib Dam which dates to the 8th century B.C. (Pl.1). The dam went through many building phases, the latest of which was in the 5th century A.D. Most of the qudâd on the Marib Dam should be dated to that century; probably only the lowest sections belong to the early First Millennium B.C.(1) Qudâd is also preserved on a number of other pre-Islamic South Arabian dams and monuments. It continues to be used throughout the Islamic Period in Yemen as an impermeable plaster on cisterns, canals, and baths, as a roofing material, and as a protective plaster on exterior facades of monumental buildings such as forts, mosques, madrasas (Pl.2) and palaces. Qudâd can only be used as a plaster on buildings constructed of stone and baked brick, it will not adhere to mudbrick, cement blocks or concrete.
A similar plaster, more or less identical toqudâd , is found in the Indian subcontinent - probably introduced from Yemen. It is also used as a protective coat on the exterior facades of buildings. The earliest examples I have been able to find in India date to the medieval Islamic Period, a time when there was massive trade between the two countries.(2) By the 17th century qudâd had spread from Yemen, Oman and India to the East African Coast, where Mombasa, Lamu, Zanzibar and other towns began to use it. Qudâd makes a particularly efficaceous protective coating in that wet, humid and hot climate, keeping the walls of houses, palaces and forts dry.
Qudâd was, and still is, an expensive, labour-intensive and time consuming process that cannot be hurried. When cement was introduced to Yemen some 25 years ago, it came as a boon to constructors who wanted to build quickly and cheaply ; thus, qudâd was set aside. When restoration projects were first initiated in Yemen in the early 1980's only a few stonemasons remembered the exact mixtures and precise procedures for making qudâd . Experimentation was necessary before it was possible to determine the correct ratio for the ingredients and the time required for doing each step of the process. It is now possible to say that qudâd is alive and flourishing, and that many workers have been trained in the process of its application.(3)
Qudâd is made up of two basic ingredients, nûra, or lime, and an aggregate, such as fine sand or riverine pebbles, which are mixed together into a mortar, and applied in three-to-five layers to the surface that has to be protected. In the volcanic regions of Yemen volcanic cinders are used instead of sand or pebbles; this apparently makes the final product more durable. Since volcanic cinder-cones can be found in most regions of Yemen, volcanic cinders are the most common aggregate used for making qudâd .
Qudâd is made as follows:
1. Good quality lime which is freshly fired must be obtained. Stale lime should not be used as it is inactive. (4) The lime is slaked in water for a period of at least two weeks for normal surfaces. During this period the lime must be constantly turned and the water topped up; it must not be allowed to dry out. The slaking should be prolonged if the lime is required for finer finishes such as carved mouldings or panels (Pl.7,8), sometimes for as long as two to three months until it reaches the consistency of a sticky dough.
2. While the lime is being slaked the surface to be covered with qudâd can be prepared. A roof surface takes time to prepare. The temporary mud plaster that protected the roofing material (the wooden beams, twigs, etc.) until it settled - up to six months - must be partially scraped off and small stones roughly embedded into it (Pl.5:a). Any surface to which qudâd is applied has to be completely settled and stable or else it will develop cracks when it shifts, since qudâd has no give. Just before the roof receives its first layer of qudâd it has to be dowsed with water. The preparation for a wall facade is slightly different. The wall has to be washed free of any dust, and the bricks or stones have to be articulated so that the first layer of qudâd can adhere in the crevices.
3. The aggregate to be used, the pebbles, sand or cinders, must be cleaned and washed down; dust or sand particles weaken the mixture. The two ingredients are mixed together in a ratio of two parts of aggregate to one part of lime. They are blended together with water and pounded with a long shovel or wooden paddle (Pl.4:a). The required consistency is achieved when the particulate matter in the mixture has reached a size pertinent to the layer in which it belongs. For the lowest layer, the mixture has to be crude and rough, with the particles as large as corn kernels, so that it can adhere better to the prepared surface (Pl.3). The middle layers require a smoother texture, so more lime is added to the mixture and the ratio changed to half lime half aggregate. The most superficial levels require a further adjustment; for them the ratio is changed to one part aggregate to two parts lime, and pounded to a fine paste (Pl.5:a).
4. The first layer of qudâd must be about two inches thick. It is applied and worked between the pebbles, into the cracks and interstices of the surface below it, until it adheres properly. This is done with the help of a sharp-edged stone, a riverine pebble that has to be slightly larger than a fist, which is repeatedly banged down on the mixture (Pl.4:b-c). This pounding process has to be done continuously for at least three or four days, then the next layer can be added. The task is boring and easy on a horizontal surface, but when the surface is vertical the procedure is much more complicated. The qudâd has to be literally hurled at the wall facade and quickly worked into the crevices between the bricks or stones; it falls down as fast as it is thrown and has to be reapplied. It is only by dint of continuous application and pounding that the qudâd eventually starts to stick to the surface of the wall (Pl.4:c). The first layer is the most difficult one to do. It is also the most wasteful, although a careful, traditional craftsman will see to it that a good deal of the fallen qudâd is gathered up at the end of the day and reused as a filler in building walls.
5. Each layer has to be worked and pounded for at least three or four days until it adheres and becomes one with the layer below it. The qudâd has to be kept moist at all times; it must never be allowed to dry out. After working hours it has to be checked to see that it remains wet. A watery lime solution is the best agent for keeping qudâd moist; a bucket full of this mixture should always be on hand (Pl.6).
6. Three or four layers of qudâd have to applied to a surface that is exposed to the elements; facades in an interior courtyard or bath will need less. Whereas two inches of qudâd are adequate for an interior wall, a minimum thickness of four inches is needed to protect an external facade. A roof or merlons will require anywhere from five to six inches of protective qudâd covering (Pls.5:a,9).
7. Once the right thickness has been achieved, and the qudâd layers are firmly and securely damped down and smoothed, the next stage can begin. This consists of polishing or rather burnishing the surface of the qudâd with a smooth, riverine pebble until it attains a hard, marble-like quality. Using the full weight of the hand, and pressing down on the pebble and moving it either in a circular or in an up and down rythmic motion, the surface is rubbed and burnished (Pls.5:b,6). Again the qudâd has to be kept moist at all times with a watery lime wash; this can be sprinkled on the qudâd with a small broom (Pl.6). Burnishing is the most important phase of the qudâd work. The work is painstakingly monotonous but perseverance is essential. Morning and evening work shifts have to be organized lest hair-line cracks appear. Each evening when work stops care must be taken to wet the surface of the qudâd so that it stays moist until the next morning's shift. This is especially vital for the first four or five days. After that the qudâd can be polished twice a day. This twice daily polish must be kept up for a period of three or four days. Burnishing then decreases to once a day, then once every two days, and this frequency has to be maintained for at least two to three weeks. The physical appearance of the qudâd must be scrutinised carefully each day for cracks. If any hair-line fractures appear then polishing has to be increased and prolonged. In fact, polishing and burnishing can only cease when no cracks, not even the faintest of hair-lines, can be seen, and when the surface develops the appearance and sheen of marble. The time needed for the burnishing phase must be judged by the master craftsman on site. It cannot take less than a month; six weeks would probably be a more likely estimate.
8. The qudâd is then left to dry, a process that can take up to two months depending on the season of the year.(5) The qudâd should be checked regularly in case cracks appear, if they do then burnishing has to be resumed. If no cracks appear during this drying-out period then the last stage can be carried out.
9. The final process consists of applying a coat of animal fat, usually beef fat (preferably marrow), on the finished surface. The fat has to be melted down and smeared on the surface of the qudâd (usually done with a bit of sheep-skin) - it is a smelly and unpleasant process. This fatty coating provides a temporary, water-proof seal that prevents the fresh qudâd from flaking during the first monsoon rains; after that it can take care of itself.
10. Qudâd takes up to a full year to set properly and finally (Pl.2). It becomes progressively harder with age, and with care and periodic maintenance it can remain in good condition for centuries, if not millennia.