President Saleh returns home after 3-nation tour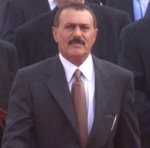 Almotamar Net
- President Ali Abdullah Saleh returned to Sana'a on Tuesday after a successful 12-day tour took him to Japan,
the UnitedStates and France in which a number of political, economical and securitytopics were tackled in order to reinforce
Yemen's relations with those countries.
In his tour, President Saleh discussed international efforts for fighting terror and economic reforms in Yemen in addition to how to
develop democracyin the region on the light of recommendations of the summit of the G-8to push back hunger and unemployment.
At his arrival, Saleh stated to Saba that he was satisfied to the results of his tour which came up with reinforcing Yemen's
relationships withthose countries and obtaining support for economic, democratic and financial development in Yemen.
Moreover, Yemen attained support to complete its drive in fighting terror, which has been noticeably decreased in the country and gained
donor countries'admiration.
"Yemen exposed its point views over reforms and the situation in Iraq, Palestine, Somali and the Horn of Africa region in addition to Mehlis report and Security Council resolutions No. 1559 - 1636.
"We also asked for liberating Iraq and ending occupation to give a chance for Iraqis build their country and govern themselves," Saleh
said.
Comments:
Adnan Al-Habashi (Guest)
Try to be honest to yourselves and don't steal articles which you didn't translate. Translator of this article: Adnan Al-Habashi Yemen News Agency
---
---

Bahah calls the international community to honor pledges to Yemen
The newly appointed Prime Minister Khaled Bahah has called the International Community to speed up honor their pledges they announced about during Yemen Friends' Meetings held in Riyadh, New York and London.
During a formal ceremony held at the UN Premises on Friday on the occasion of ending duties as Yemen's Permanent Representative to the UN, Bahah talked about providing suitable environment to enhance Yemen's economy to help improving humanitarian and political situation in Yemen, as well as providing protection to weak social categories.
He reviewed a series of political, security, economic, humanitarian and social challenges that will face the expected national partnership government he will form after his arrival to the country.


Yemen calls for int'l efforts to combat human trafficking
Yemen has called for gathering regional and international efforts to confront and combat the crime of human trafficking.
At the Regional Conference on combating human trafficking hosted by Sudan's capital Khartoum during October 13-16, Yemen stressed in its speech, which was delivered by the ambassador Abdulelah Hajar, the importance of seeking to eliminate the main causes of the growing phenomenon of asylum and illegal immigration, represented in poverty, illiteracy, unemployment ,oppression ,armed conflicts and natural disasters


Government discusses security, economic situations
The Cabinet discussed in its meeting held Thursday security and economic situations in the country, as well as the performance of the government's institutions.
Presided over by Deputy Prime Minister, Minister of Electricity Abdullah al-Akwa', the government studied measures must be adopted by all ministries and government bodies to deal with present challenges and the implementation of Peace and Partnership Agreement signed by political parties


Japan strongly condemns recent attacks in Yemen
Japan expressed on Wednesday deep concern and strong condemnation of the terrorist attacks taken place in Sana'a and Hadramout last week.
At least 66 people were killed on October 9 in a suicide bombing in the capital Sana'a and a car bomb attack on an army checkpoint in eastern Hadramout governorate.
"Japan expresses its absolute condemnation of these terrorist acts, and offers sincere condolences to the families of the victims and wishes a speedy recovery to the injured," the Japanese Foreign Ministry spokesman said in a statement posted on the Ministry's


Al-Qaeda leader in Shabwa killed
Air forces have carried out an air strike in Shabwa governorate killing a leader of al-Qaeda, a military official said on Wednesday.
The air strike killed a number of al-Qaeda militants, including al-Qaeda leader in Shabwa "Mahdi Badas", also known as Abu Hussein, the official told the Defense Ministry website.
The strike is part of the army's operation against the remaining of al-Qaeda members.


Security Council holds urgent meeting on recent developments in Yemen
The United Nations Security Council held an urgent meeting on Monday on the political transition and the latest developments in Yemen.
The meeting, chaired by the Security Council President, Maria Cristina Perceval (Argentina), was briefed by the Special Adviser to the Secretary-General on Yemen, Jamal Benomar.
Perceval made a press statement, on behalf of Security Council members following the consultations on the situation in Yemen, saying that the members of the Security Council have heard a sobering update from Benomar on the current political and security situation in Yemen.
"Council members expressed their deep concern about the latest developments," she said.
"The Security Council condemned the growing number of terrorist attacks carried out or sponsored by al-Qaeda in the Arabian Peninsula and expressed their determination to address this threat," she said.


President appoints new PM
President Abd-Rabbu Mansour Hadi issued on Monday a presidential decree No. (62) for 2014 mandating Khalid Bahah to form a new government.
The appointment of Bahah to the post of the Prime Minister was made during a meeting held Monday between the President and his advisers, who represent various parties.


Yemen, South Korea discuss cooperation ties
Minister of Telecommunications and Information Technology Dr. Ahmed bin Daghr has met with South Korea's ambassador to Yemen Lee Young-ho.
In the meeting, the two officials have discussed cooperation sides between the two friendly countries and ways of enhancing them.
The Minster commended relationship links the two friendly countries in various fields,


Two soldiers killed in Hadramout
Two soldiers were killed on Saturday in a terrorist attack with in Hadramout governorate, a military official said.
An army vehicle was blown up by an explosive device planted by al-Qaeda elements in Sayoun-Shebam road, the official told the Defense Ministry website, adding that the attack left two soldiers dead and two others wounded.
Military troops have been deployed at the scene of the attack and begun combing the surrounding areas, he said.


EU strongly condemns terrorist attacks in Yemen
The European Union on Friday strongly condemned the terrorist attacks against peaceful protestors in Sana'a and a military checkpoint in Hadramout.
Expressing its sincere condolences to the victims' families and sincere sympathy with the injured, the EU reiterated in a statement issued today its unwavering commitment to support Yemen in its war against terrorism.