President Saleh calls on local councils to hold a meeting on 1 November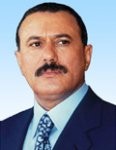 By: almotamar.net
- SANA'A- President Ali Abdullah Saleh called on local councils at both governorate and district level to hold their first meeting at the administrative centers on 1 November this year.
This came in the decision No (21) for 2006 regarding calling on local councils to meet.
The final results of the local council elections showed that the General People's Congress (GPC) won 315 seats at the level of governorates, representing 74.12 percent of the contested seats. Then Islah Party followed, with 28 seats (6.59 percent), while the independent candidates got 20 seats (4.71 percent), the Yemeni Socialist Party got 10 seats (2.35 percent) and the National Social party got only one seat.
At the level of districts, the GPC got 5,078 seats, or 73.75 percent of the total contested; the Islah Party got 794 seats, or 11.50 percent; the Yemeni Socialist Party got 171 seats, or 2.48 percent; the independent candidates got 571 seats, or 8.27 percent; and the Nasserite Popular Unionist Party got 26 seats, representing 0.38 percent; the Federation of Yemeni popular forces got eight seats or 0.12 percent, the National Arab Socialist Ba'ath party won two seats with 0.03 percent, and one seat went to each of the following parties: the Al-Haq party, the Democratic Union of Popular Forces, and Socialist Arab Ba'ath party.
---

GPC celebrates of the 35th founding anniversary
Hundreds of thousands of Yemenis descended Thursday (Aug 24) on Sanaa in a major show to celebrate of the 35th anniversary of the General People's Congress (GPC) founding anniversary.
The rally marking 35 years since the founding the General People's Congress (GPC).
The streets of the capital, waving the blue flag of the GPC and carrying pictures of Saleh the leader of GPC.


Saudi aggression warplanes launch seven raids on Saada
Saudi aggression warplanes launched seven air strikes on Saada province overnight, an official said on Wednesday.
The targeted places were the regular road in Al-Sheikh area of Monabah district, Alhbrah area of Razeh district, the directorate of Al-Taher and Shada directorate.
The strikes severely damaged civilian properties, said the official.


Ballistic missile hits mercenaries in Nehm
The missile units of the army and popular forces fired a ballistic missile, Zilzal 3, on gatherings of Saudi-paid mercenaries in Nehm district of Sanaa province, a military official said on Wednesday.
The missile hit the targets accurately, causing large losses upon the mercenaries , the official added.


Maintaining internal unity to defeat enemy: Army spokesman
Armed forces' spokesman Brigadier General, Sharaf Luqman said the army and popular forces have provided the greatest sacrifices to defend the homeland against Saudi-led aggression forces, stressing on maintaining the internal unity.
In a press statement on Monday, Luqman said that the historical steadfastness and the cohesion of the Yemeni people represent the first defense line against the aggression states.